Website Design & Development for Cities, Towns, Counties and Planning Agencies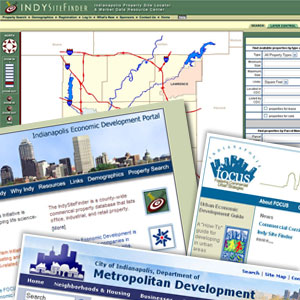 Do you need to create a website for your municipal or planning-related agency? Are you looking to redesign an existing website? Civicus provides website design & development services for cities, towns, counties, planning agencies and other municipal corporations.
Civicus has the unique blend of understanding local government and technological knowledge. Our sister company, Oongawa Design has over 15 years of website design and development experience, having designed over 100 websites.
Previous work-related website design and awards include:
American Planning Association Bulletin (2004) - The City of Indianapolis, Division of Planning website was recognized by an Ohio State University study as the best planning web site for cities over 500,000 people
Mid-America Economic Development Council (2004) - Best of Show, Development Materials Award for the Indy Site Finder economic development website
Indiana Geographic Information Council (2006) - Business/Commercial Category Award for the Indy Site Finder website
City of Indianapolis, Department of Metropolitan Development Website (200+ web pages)
City of Indianapolis Economic Development Portal
Indianapolis Metropolitan Planning Organization Website (2002)
LISC Fostering Commercial Urban Strategies (FOCUS) Website
Our website services include:
Website Design & Development
Social Media Design & Marketing
Database Integration
Content Management Systems