Mapping & GIS Services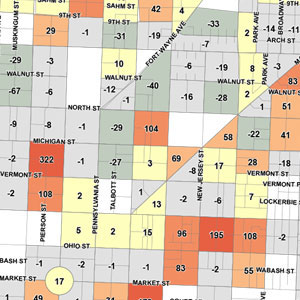 Civicus specializes in Geographic Information Systems (GIS) mapping, GIS data collection and geospatial analysis. Our GIS mapping services are used in land use plans, strategic plans, research documents and market studies. GIS Mapping services include:
Base Maps
Land Use Maps
Zoning Maps
Site Plans
Thematic Maps
Heat Maps
Demographic Maps
Asset Maps
We use the latest cutting-edge technology and spatial analysis techniques to solve the toughest business and government problems. Our spatial analysis services include:
Neighborhood Indicators
Crime Mapping & Hot Spots
Land Use Analysis
Assessment Analysis
Development Build-Out Analysis
Business Service Area Statistics
Voting Precinct Redistricting
Mapping & GIS Services Projects
Neighborhood Health Indicators

The Neighborhood Health Indicators tool is used to assess current neighborhood conditions and predict future problem areas. The tool provides an information framework for guiding public policy decisions and allocating City resources.
While the tool was created for the City of Indianapolis, it can be adapted for any city, town or municipal entity.
[ Download the Indicators Overview ]
Beech Grove Council Redistricting

This project created new council districts for Beech Grove, Indiana based on Census 2010 population.
Whether it is for updating voting districts, analyzing school district population or creating and tracking business sales districts, Civicus has the experience for your project.
[ Download the Council District Map ]
Downtown Housing and Population Study

This study analyzed 1990, 2000 and 2010 downtown Indianapolis Regional Center Census block data and tracked population, housing units and residential project trends, while predicting future downtown population.
[ Download the Downtown Study Maps ]